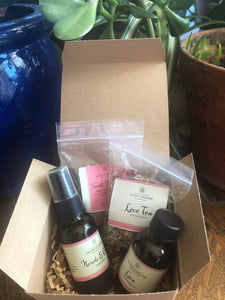 Love Self-Care Sample Box

Love Body Oil:
Bring love to your body and mind with the comforting essences of sandalwood, ylang-ylang, & ginger.
Massage warmed oil on your body (abhyanga), or rub on wrists, nape of neck, or feet.
 Ingredients: Sweet almond*, rosehip seed*, and jojoba* oils, vitamin e, essential oils (sandalwood, black pepper, ylang-ylang, grapefruit, and ginger).  *organic
1-ounce glass bottle
Love Herbal Tea:
A blissful blend of herbs and spices to help promote feelings of love and vitality. 
Prepare as an herbal infusion by steeping 1-2 tsp in a cup of just-boiled water for 10-15 minutes. Strain & enjoy. Naturally sweet on its own but also delicious with honey and/or milk of choice.
ORGANIC Ceylon cinnamon, oat straw, holy basil, rose petals, cardamom
½ ounce bulk tea
Neroli and Rose Hydrosol:
Neroli (orange blossom) and white rose are two of the most precious flowers in the plant world. Combined they impart a highly radiant, sweet, floral scent. Lightly mist yourself and your surrounding area whenever you would like to invoke love, comfort, and sweetness of being. 
Ingredients: Neroli (orange blossom)* and white rose* hydrosols.  *organic
1-ounce spray glass bottle
Sweet Spice Blend:
Sweet, fragrant, and extremely comforting. Wonderful in breakfast grain dishes, cooked fruits, or added to warm milk for an instant beverage. Add 1-2 tsp, whenever you would like to enhance the sweet taste. 
Ingredients: Jaggery*, fennel*, coriander*, rose petals*, ceylon cinnamon*, cardamom*, vanilla extract*.  *organic
1.5-ounce bag