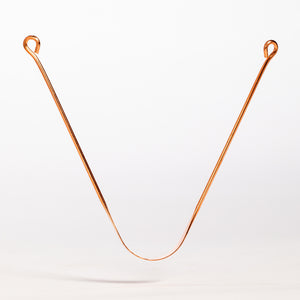 REFRESH & CLEANSE
The ancient technique of tongue scraping has been traditionally used by many cultures to help freshen breath, support digestion & support elimination of toxins (ama). Copper is thought to be the best metal to help resist bacterial accumulation.

Directions:  Start at the back of your tongue, gently scrape forward in one motion. Repeat 5-8 times. Rinse scraper with water after each pass. Follow with brushing teeth & swish oil.

After each use, wash scraper with soap and water and completely dry (to avoid tarnish).
Made in India
1 copper tongue scraper