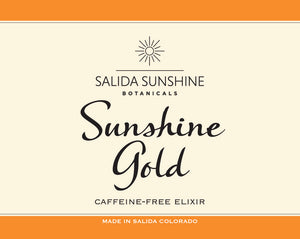 Golden Elixir
A traditional blend of Ayurvedic herbs and spices used to support healthy immune response, energy production, vitality, circulation and stress levels.
Stir 1 tsp into 8 oz milk of choice. Bring to just below boil, stirring often, simmer for 5-10 minutes. May also be added to boiling water with a splash of cream. Enjoy when cool.
ORGANIC Turmeric, maple syrup granules, cinnamon, ginger, ashwagandha, shatavari, cardamom, vanilla extract, indian sarsaparilla, black pepper
This  product is not intended to diagnose, treat, cure, or prevent any disease.  Contact a  physician with concerns, if you are on medication. Not intended for pregnancy or while breastfeeding.