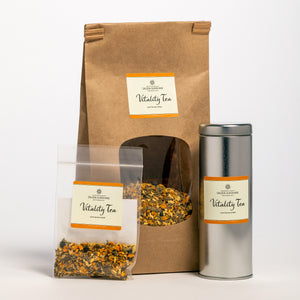 WARMING & STIMULATING

An invigorating spice blend to support energy, clear the head when stuffed up, soothe the belly, & stimulate digestion (when taken before meals).
Place 1 tsp Vitality Tea in a medium saucepan. Add one pint of cold water. Bring to just below boiling, turn down heat, simmer for 15-20 minutes. Strain. Enjoy when cool.
ORGANIC Ginger, turmeric, cumin, clove, & black pepper