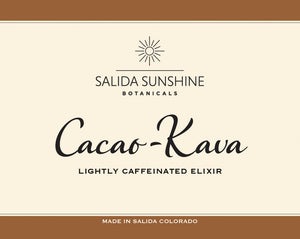 UPLIFT & COMFORT

Lightly Caffeinated elixir

Kava Kava has traditionally been used to help support healthy stress levels, soothe anxiety, & help balance mood. Cacao is high in antioxidants vitamins & minerals. Together with maple syrup granules & rose petals creates an earthy, euphoric brew.

Blend 2 or more tsp with 1 cup natural soda or milk of choice. Enjoy
Ingredients:
ORGANIC Maple syrup granules, ,cacao powder, Kava Kava root powder (cultivated without chemicals), rose petals, vanilla extract

Occasional use only. Not for use by persons under 18 years of age. Not for pregnancy, breastfeeding, or if you have liver problems, or are on medications. Excessive use, or with products that cause drowsiness, may impair your ability to operate a vehicle or dangerous equipment
This  product is not intended to diagnose, treat, cure, or prevent any disease.  Contact a  physician with concerns, if you are on medication. Not intended for pregnancy or while breastfeeding.