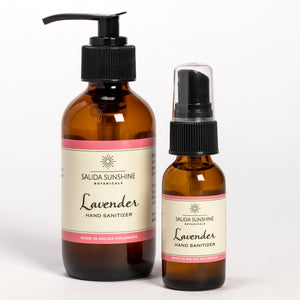 CLEANSE & SOOTHE

Hand washing is always best. If not available spray 2-3 times in the palm of your hand, massage hands and fingers for 30-60 seconds covering entirely.
Ingredients:
80% grain alcohol, 17% aloe vera juice*, 2.7% vegetable glycerine* & jojoba oil*, .03% essential oils (lavender, tea tree).  *organic

TOPICAL USE ONLY. FLAMMABLE, CAUTION WITH HEAT & FLAME.

Spot check for sensitivity Keep out of reach of children, not for children.
This product does not treat, prevent or cure disease. Concerns contact physician