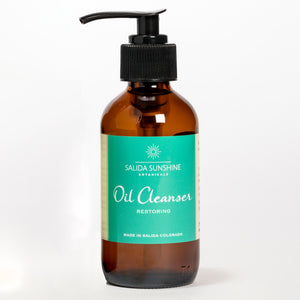 CLEANSE & TONE

Oily, Congested & Acne prone skin
For 1-2 minutes, gently massage a nickle to quarter sized amount of Oil Cleanser into dry skin. Focus on areas of congestion. With a warm, damp cloth comfortably cover your face, let steam until cool. Repeat. If needed repeat one more time. Gently wipe away any oil. Follow with Restoring Face Serum or serum of choice.
Ingredients:
Sunflower* jojoba*, castor*, & tamanu* oils.  organic
Oil cleanse once a day in the evening before bed.
It may take time for your skin to adjust, caution with sensitive skin. Consult your dermatologist with concerns.
External use only. Spot check for sensitivity.