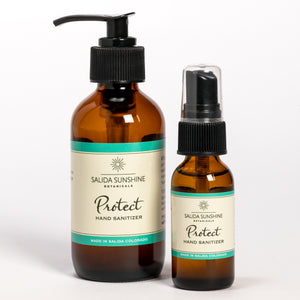 CLEANSE & PROTECT

Hand washing is always best. If not available spray 2-3 times in the palm of your hand, massage hands and fingers for 30-60 seconds covering entirely.
Ingredients
80% grain alcohol,
17% aloe vera juice*,
2.7% glycerine*/jojoba oil*
0.3% essential oils (lemon, cinnamon, rosemary, clove, eucalyptus).  *organic

External use only. Flammable, caution with heat & flame.

Spot check for sensitivity.Keep out of reach of children, not for children.